A pipe fitter. Drill rig. Lhd scoop. Dump truck machinery. 0794338140 - Margate
Friday, 19 October 2018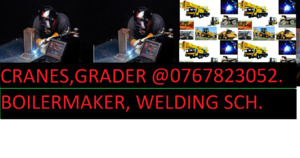 Item details
City:
Margate, KwaZulu-Natal
Contacts

fed

0794338140
Item description
We do certificate renewals. Health and safety. Tel0794338140. Drilling rig training. Lhd scoop training. Tlb training. Tower crane training. Skid steer loader (bob cat). Truck mounted crane. Over head crane. Mobile cranes
front end loader. Dump truck. Excavator. Roller. Grader. Bulldozer. Rigging. Dangerous goods. Supper link. First aid. Tel : 079-087-0183. We do certificate renewals. Blasting training rock abrasive blasting plant equipment mining machinery training drilling rig lhd
blasting engineering course. This course covers the basics of commercial explosive an the applications on surface ans underground mining environments. Abrasive blasting training
blast furnace training. Rock blasting training. Welding training / artisan training courses. We do certificate renewals. Stick/arc welding
co2 welding (mig). Argon welding (tig)
aluminum welding
boilermaker
double coded welding
flux-core welding
pipe welding
plumping. We do certificate renewals.